Turned Off Light by Mike Williams 01/18/2016 @ 2:34 P.M.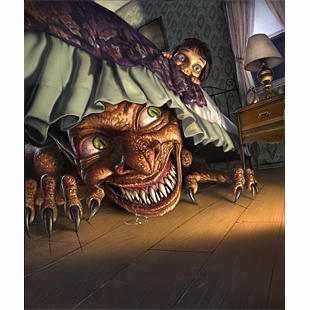 Under the bed in the dark of night,
Monsters lurk for ankles to bite.
Behind the cracked closet door,
Eyes peer outward aglow o'er.Inside the walls scratches sound,
Claws razzor sharp run up and down.
Upon the ceiling along the groove,
Shadows creep and slowly move.
Down the hall echoes softly moan,
Ghosts come out and nightly roam.
Under the floor creaks of fright,
Never sleep with a turned off light.