Hunting For Snipes by Mike Williams 01/21/2016 @ 12/21/2016 @ 12:01 P.M.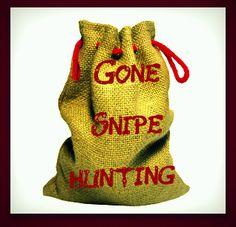 We waste countless moments agonizing,
Looking for our perfect love types.
How we snag and snare our hearts,
While chasing invisible snipes.
Thinking that love will fix all wrongs,
And missing the forrest for the tree.
It's not something to search for at all,
But loving we should simply be.
We desire to fill our empty hearts,
And the lives we alone despise.
Yet love exists from deep within,
And shown by the most wise.
Those that know just what to do,
Flush expectation out their pipes.
And love is theirs to be had,
Without going hunting for snipes.
Notes: The real snipe is a family of shore birds that have proven difficult to catch but they are typically hunted with guns – not burlap bags. The snipe can be found in wetlands during the fall as they migrate south and are also commonly in flooded rice fields.
Real snipe hunting is actually very common in Europe and a few states around the U.S. have legitimate snipe hunting seasons. Snipe season typically runs from November through February. Hunters experiencing a slow duck hunting day have been known to pick up a few snipe to avoid going home empty-handed.
The term 'sniper' was derived from the advanced skill needed to shoot a snipe. When a snipe is spooked, it flies in a zigzag pattern making it difficult to shoot. The British began calling anyone who was able to shoot a snipe a sniper.
Some of the seemingly silly techniques used in a Snipe Hunt – like shining a flashlight in the snipe's eyes to blind it – are actually legitimate techniques used by ornithologists, those who study birds. Using a spotlight during the dark of night is actually a great method for catching certain species of birds. The technique is commonly referred to as night-lighting.
A snipe hunt (of the unreal variety) is also known as a fool's errand. It is a practical joke that is played on newcomers to a group and is most often some sort of impossible task. Essentially, a wild goose chase.