Coin In The Fountain by Mike Williams 01/23/2016 @ 9:31 A.M.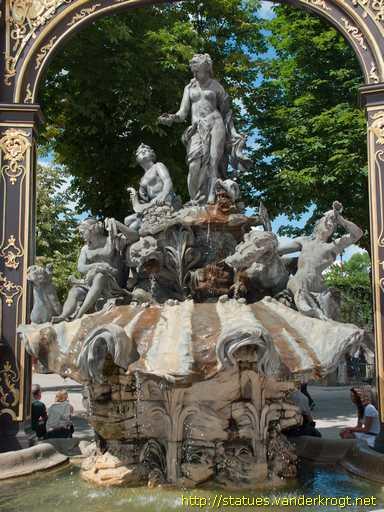 I was all of twenty three when I made a simple wish.
For sping had came to visit me after winter's long abyss.
Gray skies gave way to sun and the snow had disappeared.
The little Crochus raised their heads to smile and happily peered.
The quartet strung its melody atop of Bad Herrenalb.
I took the train to Nancy and Metz to ease winter's long looming doubt.
There a fountain babbled and dripped in the golden sun.
And I had a pocket full of coin and slowly fished out one.
I felt alive and never wanted to leave, but knew that soon I must.
And kissed the coin, the abode of all my hope and wishful trust.
One day I would soon return and revisit this land of forest, flower, and mountain.
Then tossed my coin into the clear waters of that glorious fountain.
After a long harsh winter in Sankt Wendel, Deutschland, and being trapped indoors for months until the snow melted. I had taken a weekend trip to Nancy (Meurthe-et-Moselle, Lorraine, France) one weekend, when the sun had come out in all of its glory. The cafés rushed to put out tables and chairs for their patrons to enjoy the sunshine and beautiful weather. It seemed like all of this region of Europe had suddenly sprung to life instantly. The winter gloom had gone away with most of the snow. The streets filled with people and shops opened their doors to let in the fresh air.
I jumped on a train and traveled from Deutschland, first to The Black Forrest region for a spring concert at Bad Herrenalb. The snow still slightly dusted some areas, but a beautiful patch of green grass on top of the mountain was covered in Crochus. The pretty little flowers are some of the first to bloom, sometimes when there is still snow enough to cover them up. The arrange of colors looked like a painted canvas. In the middle of this splendor, there was a white framed glass house with flowing sheer drapery. A classical orchestra played and golden throated singers enchanted all within earshot. A little brunch at the local imbiss, then back toward Sankt Wendel.
Next a quick train trip over the border to Luxemburg for some shopping and sight seeing, then down the line a bit more to Metz for a bite to eat and some walking, and finally to Nancy for some relaxation and a cup of coffee. The quaint little café was very close to Stanislas square. I strolled across the street and visited the ancient fountain that had a host of locals and tourists gathering around it. The 18th century Rococo style fountain babbled serenely amid the gilded gates and new chartreuse green budding out all around it. It was a sheer moment of magic for me. I felt so alive and breathed the crisp air deep into my lungs and let the sun warm my skin, while viewing this wonderful work of art before me. Lastly, after a weekend of fun filled sights and sounds, I had taken the last train home to Sankt Wendel.