Deeply Dark by Mike Williams 10/13/2015 @ 3:02 P.M.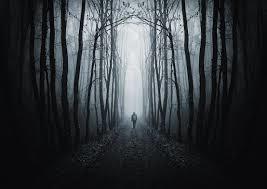 In my heart there's a place darkly deep.
A wood overgrown full of mysteries keep.
A path meanders through its haunting thick.
And magic weaves memories by dim lights trick.
A place I often visit while I'm alone.
Reminders of childhood are at home.
In the shadows and hidden dank.
Among its treasured floor forgot flowers thank.
Where the tree boughs arch and weep.
A part of me hidden where black waters seep.
The secret remains of a lonely heart.
I roam a wood feeling deeply dark.
Should you search beyond my blank stare.
Enter into that old forest and find me there.