Tea Time For Two by Mike Williams 01/29/2016 @ 5:01 P.M.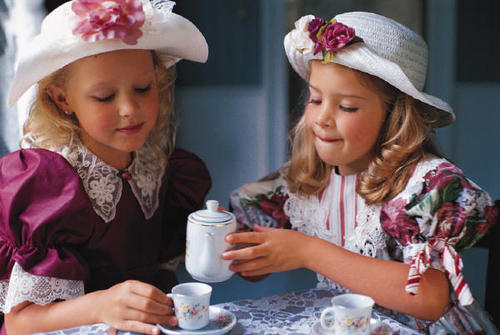 In the childhood world of little girls,
Tea time is something special to do.
Lace tablecloths and white lattice trim,
And a place set for me and you.
In the midst of the table stacked high,
Finger sandwiches, scones and cream.
Chocolate covered strawberries and petits fours,
And a host of wonderous things.
There is extra places for company,
And bublegum and lemonade tea with mint.
Little matching place mat sets and caddy,
And a special chair for Mr. Elephant.
Tell me your secrets and I'll tell you mine,
Lets talk about our favorite things of the day.
Would you care for some ginger and lime,
What sort of games do you like to play?
The happiest part of it all is not the feast,
It's spending time among friends true.
Big hats and feathers are worn at least,
But there is always tea time for two.