Stars (Tanka) by Mike Williams 01/30/2016 @ 4:16 A.M.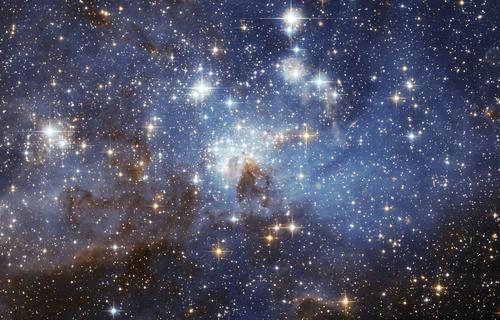 ancient wonderers
dancing in the firmament
dreamily waltzing
glittering in the night sky
the stars appear in heaven
18 words, 5 lines, 31 syllables (mora).
Image: Photo credit: ESA/Hubble
http://www.spacetelescope.org/images
Tanka is a Japanese poem consisting of five lines, the first and third of which have five syllables and the other seven, making 31 syllables in all and giving a complete picture of an event or mood. The term tanka poetry refers to a Japanese five-line poem. Tanka, translated, means "short song." It is similar to haiku in that there are specific amounts of syllables for each line of the poem and it utilizes the literary techniques of personification, metaphor and simile to describe and create the ability for the reader to visualize the author's descriptions.
Tanka poems are also similar to haiku in that they often discuss the same topics of emotions, seasons, nature, love and sadness.
Tanka consist of five units (often treated as separate lines when transliterated or translated), usually with the following mora pattern: 5-7-5-7-7.
The 5-7-5 is called the kami-no-ku ("upper phrase"), and the 7-7 is called the shimo-no-ku ("lower phrase").