The Rainbow's End by Mike Williams 01/29/2016 @ 6:12 P.M.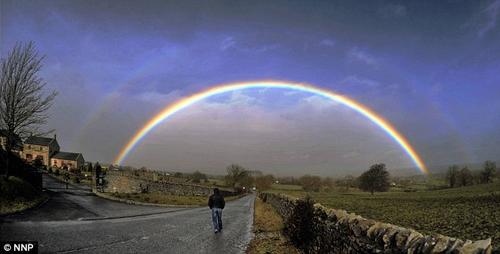 What wonder is there in the sky,
Cloudy with its touch of grey.
Between the mist and dappled light,
Something appears to brighten today.
I put on my parka and wellingtons,
Grabbed my faithful yellow brolly.
Walked down the lane by Mr. Ellington's,
Who is always just shy of melancholy.
I could see the prominent hues,
And wondered where they might hide.
But I was on the other tip where they fuse,
Much closer to the opposite side.
I waded through a mud puddle,
Over a shrub and some flower beds.
To where the colours suddenly muddled,
And I wondered where it led.
A little further down an alley path,
Just around a couple of grassy bends.
My soul in all of its marvel hath,
Finally found the rainbow's end.