Ode To The Asphodels by Mike Williams 03/23/2016 @ 1:05 P.M.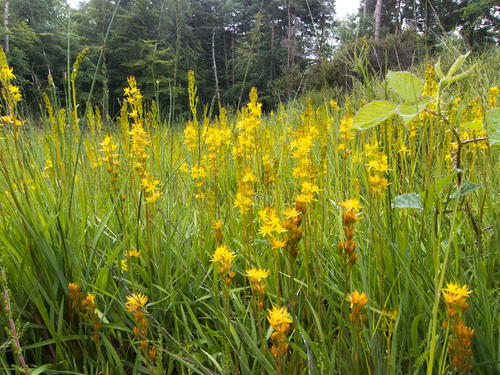 Untarnished daughters under heaven,
Serenely growing in the ancient field.
Exhault no hero of men to Elysian,
Nor kills in the name of gods and sword wield.
I gaze at the golden fated flower,
Which blooms glorious unknowing to die.
Striven to sky without reason doth bloom,
Asking never for what purpose and power.
Questioning not its fate as mankind and I,
Live despite the world's prophets of doom.
Still they dream in hope of some amaranth,
Exhausting slowly behind half shut eyes.
Stirring me within the mind's labyrinth,
Amid the splendor ephemeral I.
I dare but observe and refrain cutting,
If any gods exist, they're made their hand.
This is all that any need to reason,
Surely I would not wish to spite neither.
No difference of life in flower and man,
And glimmering a short gentle season.
Grow, bloom, live, thrive, and die the flowers do,
Changing inward, yet outward much the same.
Striven against climate to hold their hue,
Until the good is gone and dried stalk remain.
Simple the flowers due my liberation,
lay in the cool of the mossbed's wet grass.
Wondering no mythological tales,
And rest from all of man's aggrivation.
Contented in due course the hours must pass,
Fading not in time the sweet Asphodels.
Ode:
Rhyme: This poem is composed in Iambic Pentameter, five syllables stresses and five unstressed per line.
The rhyme pattern is: A B A B C D E C D E
Structure: Unfixed number of four- to six-line stanzas.
Measure/Beat: Varied, but iambic tetrameter is most common.
Common Themes: Pindaric celebrates gods, events, experiences, other individuals; Horatian is deeply personal.
Other Notes:
A stately, elaborate, and dignified treatment of a subject.
Originally created by Greeks to provide choral accompaniment
Originally structured in three acts: strophe (one side of story), antistrophe (other side of story), and epode (review)
This Ode reflects the resiliance of the Asphdels in Greek mythology and of the actual flower, which dies while appearing alive long after. I have contrasted both forms; the mythological flower and elements of the real specimen. Then compared it to mankind's search for the divine aspects as told in the Greek stories of gods, demi-gods, and heroes.
The Asphodels are an immortal flower said to grow in the Elysian fields. Elysium or the Elysian Fields (Ancient Greek: Ἠλύσιον πεδίον, Ēlýsion pedíon) is a conception of the afterlife that developed over time and was maintained by some Greek religious and philosophical sects and cults. Initially separate from the realm of Hades, admission was reserved for mortals related to the gods and other heroes. Later, it expanded to include those chosen by the gods, the righteous, and the heroic, where they would remain after death, to live a blessed and happy life, and indulging in whatever employment they had enjoyed in life.
The good receive a life free from toil, not scraping with the strength of their arms the earth, nor the water of the sea, for the sake of a poor sustenance. But in the presence of the honored gods, those who gladly kept their oaths enjoy a life without tears, while the others undergo a toil that is unbearable to look at. Those who have persevered three times, on either side, to keep their souls free from all wrongdoing, follow Zeus' road to the end, to the tower of Cronus, where ocean breezes blow around the island of the blessed, and flowers of gold are blazing, some from splendid trees on land, while water nurtures others. With these wreaths and garlands of flowers they entwine their hands according to the righteous counsels of Rhadamanthys, whom the great father, the husband of Rhea whose throne is above all others, keeps close beside him as his partner
— Pindar, Odes (2.59–75)