Humble Pie by Mike Williams 08/17/2016 @ 8:27 P.M.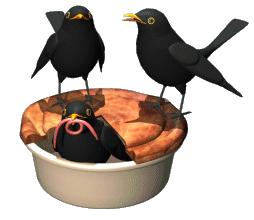 I shot my mouth off to the sky,
And befell a bird or two.
Before thinking what would it rue?
Giving none to reason why.
Black bird, black bird, crust of rye,
Pinch my nose and swallow too!
How many bites must I go through,
Before I guess I will die?
Why did I tell a darted lie,
What good purpose could it do?
Now wishing I had said what's true,
And not eating humble pie!