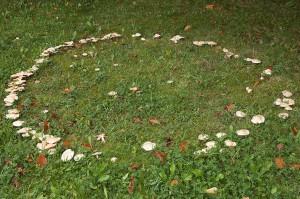 The rain shrouded the wood all through spring,
And since verdant the groves did grow,
A white misty lace curtained low,
On the rolling sylvan hill's upswing.
From my window I watched awaiting,
Time stood still and I felt it though,
To that woodland I wished to go,
Amid wild flowers and butterfly's wing.
For days I heard a faint splashing ting,
Alas through clouds the sun broke slow,
Trailing off into the trees aglow,
There I chanced on a beautiful thing.
Where robins play and the sparrows sing,
Whence came a path I didn't know,
Beneath the fern hid row on row,
Lay a mushroom circle fairy ring.