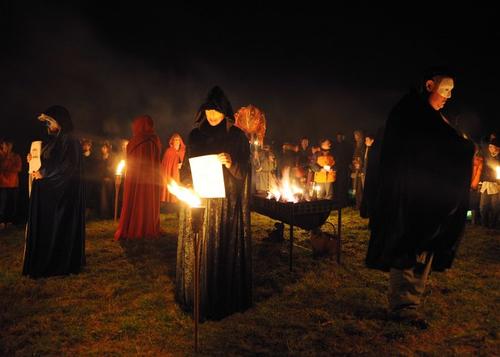 The moon comes mumming behind clouds of pitch,
its silver ribbons of light bob and peek.
Gat-toothed Alysoun held seye by the hearth,
as her kinfolk gathered to hear her speak.
"Three nights before we've collected wicker,
the hollowman made and bonfires prepared.
Hilltops stand ready to light come morrow,
but this night spirits roam and fill the air."
"The veil transcends thin the otherworld now,
best for divination and augery.
Cast your hazelnuts into the last fires;
Érie colleen, see who your husbands be."
Each girl smirched their nuts with a suitor's name,
then threw them into the hot fire ablaze.
Then watched to see which one would keep untouched,
as flames foretold the coming of their days.
Old Alysoun Múinim rocked in her stead,
her eyes flickered as she spun ancient tales.
The moonlight crept through the cloudbreak slowly,
and lit the room from a window then pales.
Her voice crackled and the flames leaped their bounds,
each time one of the nut casings would burst.
She seethed under her breath and the hearth hissed,
as she spake of omens and a new curse.
"A cruimther come into our sacred lands,
to convert and steal our identity.
His cross draped around his willowy neck,
with a dying man hung in effigy."
"He mocks our gods and proclaims us witches,
and brings worship never known us before.
Saying we are doing some devil's work,
then surplants our ways with strange foreign lore."
"We were nearly driven out by Romans,
come ye round me now listen what I say.
In times to come we may not survive,
nearly forgot the Druì and their way."
"The oak knowers long ago were all slain,
and their sacred groves lay silent in ash.
Our reminent are few in number now,
I see the Nos Calan Gaeaf growing rash."
"As we mark the pastoral seasons well,
know that time brings in its bowels a change.
Hard days ahead and bonfires of old cease,
these lands are becoming sickened and strange."
"Hede my warning for this may be our last,
come morn this priest commands his saints and mass.
Then Samhain will be remembered no more,
our ways gone as the clouds that quickly pass."
Last Alysoun licked her licorice tooth,
put out her fire and scraped the resting char.
She stared fixed with grey bewildered eyes all,
then spake us never forget who we are.
"This night we honor our ancestors gone,
as we have done for a thousand Samhain.
Winter days darken and Laghnasa done,
and the priest renamed it Hallowe'en.